HISTORY OF OUR FIRM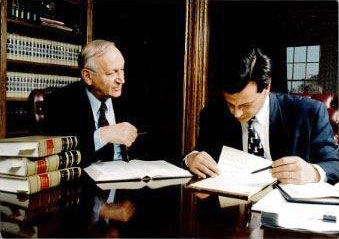 Our firm was founded by Ned J. Nakles Sr., who established the high standards of personal service and commitment to the welfare of our clients that continue to guide the firm today. Mr. Nakles began the firm's long tradition of specializing in the representation of victims who have been injured in an accident.  He was a member of the prestigious American College of Trial Lawyers and had a well-earned reputation for success in personal injury and wrongful death cases. Mr. Nakles was known for his legal brilliance, and for the detailed and thorough preparation he brought to every case. His passion for the law was legendary, matched only by his passion for history and  books. In his honor, the Westmoreland  County Bar Association established  The Ned J. Nakles Inn Of Court, which was designed to improve the skills, professionalism, and ethics of the bench and bar. Mr. Nakles practiced law until his death in 1999.
Ned J. Nakles, Jr., has continued the firm's commitment to excellence in the practice of representing injured plaintiffs. He has established his own long record of success representing people injured in all types of accidents. Please see a resume of Mr. Nakles' accomplishments in our home page.
Today, our goal is simple; to treat our clients the same way we would want our family to be treated. We provide a close working relationship, and make every effort to accommodate your travel and scheduling needs. Rest assured, that our clients meet with lawyers at every stage of their case.
COMMUNITY INVOLVEMENT
Nakles and Nakles has been privileged to receive the support of the citizens of our community. We take to heart the words in the Book of Luke, "Everyone to whom much is given, much will be required," and we work to return our blessings to our community.
Our firm believes in the value of young people's involvement in sports and we actively support a number of youth athletic teams: baseball, soccer, women's basketball and deck hockey. We support the youth after-school programs at the Latrobe Salvation Army.
Nakles and Nakles is also committed to provide educational opportunities for young people in Westmoreland County. Scholarships in the name of Ned J. Nakles Sr. were established at Seton Hill College and Thiel College and are awarded annually to students of this area. We have been actively involved with the work of the Art Conservation Trust of the Greater Latrobe School District and support the new Center for Student Creativity.
We also support a number of student activities in Latrobe, Derry, Ligonier, Hempfield and Greensburg. We are one of the sponsors of the Westmoreland County Night of the Stars, honoring the excellence of area student musicals.
Nakles and Nakles has proudly served clients from communities throughout Pennsylvania, having represented clients from the following areas: Adamsburg; Altoona; Belle Vernon; Blairsville; Bolivar; Bradenville; Central City; Connellsville; Crabtree; Derry; Donegal; Greensburg; Herminie; Hunker; Irwin; Jeannette; Johnstown; Latrobe; Ligonier; Monessen; Monroeville; Mt. Pleasant; Murrysville; New Alexandria; New Florence; New Kensington; New Stanton; Norvelt; Pittsburgh; Scottdale; Stahlstown; State College; Uniontown; West Newton; Youngwood; and Yukon.